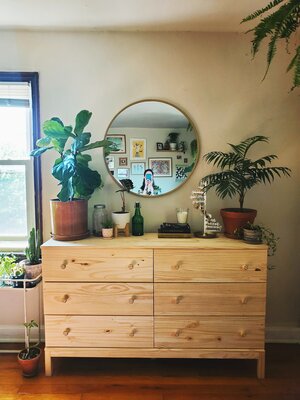 How to fit 91 plants in 557 square feet
In addition to managing pests and remembering to water, creating room for your growing plant family can become a challenge. Today I have 91 houseplants in a 557 square-foot apartment, and now every new plant requires strategic placement.
The first, and I think most important, consideration, is what plants would live well in a space. 
How much space do you have to work with? As much as I would love to fill my home with 8 foot trees, realistically my living space needs to be liveable. Half of my plants are in 6 inch pot sizes or less, which has given me an appreciation for starting small. 
What are the conditions of the space? It's important to consider the light and humidity in prospective plant places. Most of my windows are north facing and I have high humidity since my apartment doesn't have an HVAC system, which means indirect sun tropicals such as Philodendrons and Begonias thrive in my home. If you have west or south exposure, higher light plants will be compatible. 
What kind of plants are nearby? I try to cluster plants that normally live together in nature because they usually enjoy the same conditions. My humidity lovers receive frequent mists or remain near humidifiers, while my desert plants live separately. It makes care easier, and some plants create mini-biomes when they are clustered.
Where should I put my plants?
I like to create plant nooks in areas of my apartment that feel empty - it allows me to highlight my plants without sacrificing usable space. I knew that I wanted to have plants in my hallway, but it only receives low indirect light when I keep my bathroom and bedroom doors open.
I first put my Zamioculcas Zamiifolia (ZZ) in the corner because it can withstand less sun exposure and its growth is mostly vertical, which means it takes up less room than a wider plant would. Once my ZZ plant started putting out new growth, I added my Raven ZZ plant, Sansevieria Whitney, and Sansevieria Black Coral since they require similar conditions. I then moved the Philodendron Black Coral into the hallway since it has similarly dark foliage, and it receives more light there than in its previous placement. Last, I set up my propagation station to bring an interactive element into the mix.
There were different limitations when I created this high light nook since it receives bright indirect light all day and over 4 hours of direct sun. I burnt quite a few plants when I moved into this space since my last apartment only had east and north exposure; with some experimentation, I found my Aloe Vera really thrived there. That determined many of the other plants that I chose for this area. My cactus collection, Bird of Paradise, and Majesty Palm all do well in this room.
How should I style my plants?
About 75 plants ago, I kept plants near my windows and rarely considered how they looked in my home. Over time I began to think of plants as art, and art deserves to be accentuated and admired. Now styling has become almost as fun as bringing a new plant into my home. 
Plants bring a lush, natural feel to indoor spaces, but they can look disorganized and overwhelming if they are placed without care. I first choose an accent - sometimes it will be a large plant, a piece of furniture, or a feature in my apartment. The ZZ hallway nook and the direct sun nook are examples of building an aesthetic around large plants. 
I wanted to make the record player a focal point in this space, so I created levels by choosing plant stands of varying heights. I also used contrasting textures; the Hoya Carnosa Compacta and Curly Rasta plant have tight leaf structures, while I furnished the plant stand on the wall with Philodendrons since they are large and broad. Filling the surrounding areas and adding the rattan hanging planter frames the record player, and the differing levels lead the eye towards the table.
Alternatively I wanted to take the focus away from my TV in my living room, which was challenging in a small space. I wanted plants that were taller than the TV to create visual intrigue; I settled on this Philodendron Adansonii Totem and Dracaena Janet Craig Compacta since they wouldn't block the doorways. I then surrounded the base with plants that had contrasting colors and patterns, like White Fusion Calathea, Sansevieria Bantel, and Philodendron Prince of Orange . The wall planters also bring interest to the blank space above the TV.
My final consideration is choosing compatible planters and pots. When I first got into plants, I bought only the cheapest planters available. Eventually I realized that I hated most of my planters, and ever since I've only purchased pots that match my aesthetic. Yes, sometimes that means spending a little more in the short term. However I can use a sturdy pot indefinitely, even if the plant dies (And believe me, I still kill them every now and then). There are also lots of inexpensive, quality pots if you're willing to do a little searching. 
Every home is different, but we all want our living spaces to feel like they belong to us. Enjoy making these personalized decisions, because the best stylist for your place is you.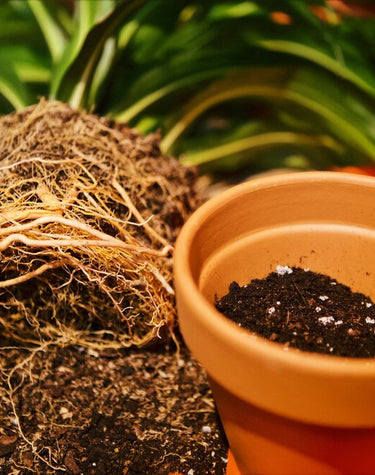 Transferring your plant from its growers pot (the plastic pot it is often purchased in) to a planter can seem daunting to many, but it's easier than you think! Here at REWILD, we pot lots of...
Read more