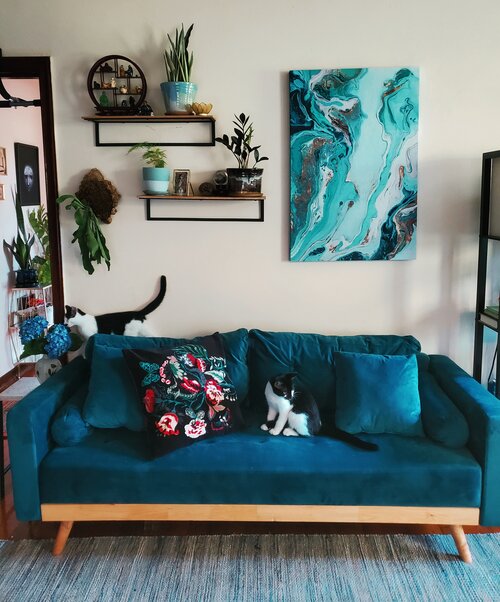 A survival guide: Pets vs. Plants
I think all humans share an innate love for nurturing living things - we feel fulfilled helping plants and animals thrive, even though we don't always benefit from it directly. Unfortunately, our houseplant goals can often clash with our pet's behaviors. Though our furry friends can create limitations in our homes, there are plenty of solutions when managing pets and plants. 
I grew up in a busy house with pets and an unkempt garden, but I got my own cat when I was 9 years old.  When she and I moved into our first apartment, I finally got an Ikea houseplant and a CVS cactus. I killed them quickly, of course, but I also learned that she wasn't interested in plants. She was with me for 17 years, and after a time I rescued two 8-week old kittens. Keeping kittens away from plants is wildly harder than older cats, and I had to think of new ideas to keep them separate once I rescued them.
Shelving is your friend
Pets tend to fall into one of three categories in regards to plants: eaters, batters, and uninterested. Eaters obviously try to eat or bite plants, and batters usually love to claw at or wag at plants. Uninterested pets might sniff plants or rub against them, but they are not as destructive.
I currently have two batters, and installing shelves has allowed me to keep my favorite plants out of reach. It can also be a good space for toxic or sensitive plants since they won't be able to access those spaces. I keep my Raven Zamiculcas Zamiifolia and Bantel Sansevieria on shelves in my living room because both are toxic. I also keep my Asparagus Fern there - it's not toxic but the foliage is very delicate. It's important to check the weight limit prior to buying the shelf so you won't damage your walls or plants. 
Getting creative with placement
Very curious pets can sometimes determine where you keep plants. My cats can reach almost anything under 4 feet (ugh), so I can keep very few plants on my floors and lower surfaces. I've started using plants in sturdy pots as bookends and paper weights. Bookshelves can often accommodate heavier plants than floating wall shelves.
Wall mounted plants are a fun way to make an impact while taking up very little space. However, wall planters and mounted plants usually have a limited amount of soil. Two of my planters were too small to hold most plants long term, so I settled a few air plants for easy care. I mounted this Staghorn Fern about 7 months ago, and it has grown significantly. I submerge it fully once a week and let it dry before re-hanging.
Creating repellent
I've had limited success using repellents on my cats. The mixtures that I've tried use lemon essential oils or citronella. The first uses 8 drops of lemon essential oils mixed with 1 cup of water. The other use ¾ cup of water mixed with 20 drops of citronella. My cats definitely did not like the smell, but I'm not sure if it discouraged them. I've also read that grain alcohol is an effective additive, but I haven't tried that yet. Some posts suggest that repellents are more suitable for older cats.
 Hopefully this helps you bring a bit more order to your space. Separating plants and pets can be a challenge, but it's very rewarding when everything living in your home is happy and healthy.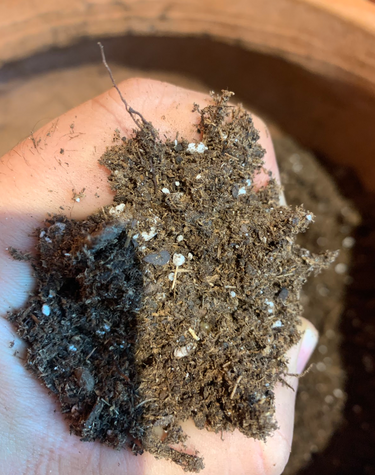 My favorite thing we do at the shop is repot plants. If you buy a plant or pot from us we will repot your plant for free. I know, I know it's a great service. We did write a blog about what happen...
Read more